Florida Poly Giving Day
On April 6, 2023, the Phoenix community will come together for the second annual Florida Poly Giving Day, a 24-hour event where students, alumni, faculty, staff, parents, and friends will show their Florida Poly pride in support of the University.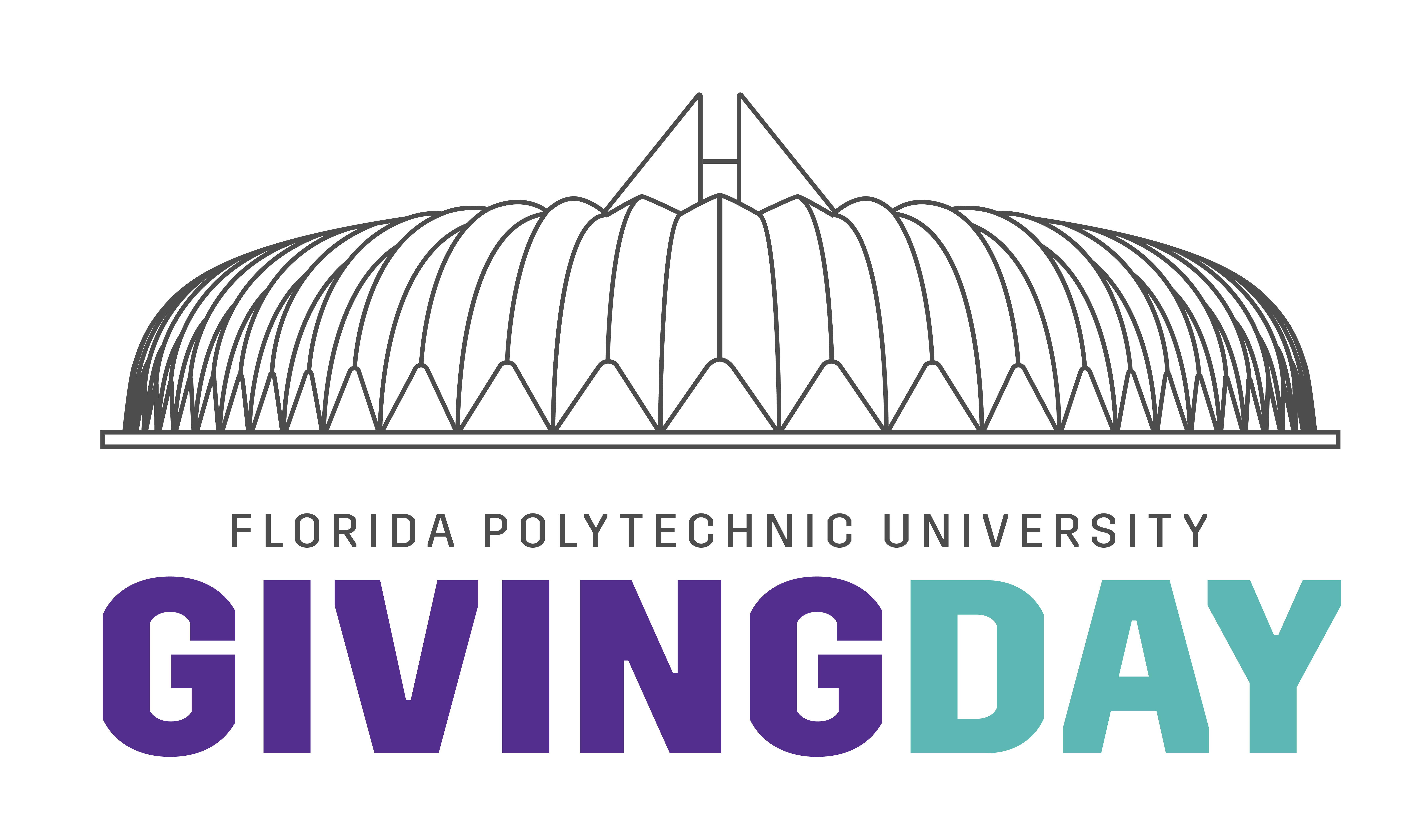 On April 6, 2023, we will all take to social media and post messages to encourage our friends, families, and community to give to Florida Poly and the various clubs and departments. There are also scholarships and the student emergency fund that will take donations.
In all of your posts, please direct everyone to givingday.floridapoly.edu to make their donations.
The exciting part during this day will be the various challenges. Throughout the day, there will be challenges posted on social media which could give your club or department thousands of dollars.
Visit the link below for all you need to know!
Frequently Asked Questions
Florida Poly Giving Day is our inaugural 24-hour online fundraising event held on April 6, 2023. On this day, it's all about our great University and the people who make this place so special! Alumni, students, faculty, staff and friends of Florida Poly are welcome and encouraged to show their Phoenix pride and make a gift to the area that means the most to them.
Florida Poly Giving Day is April 6, 2023.
As Florida Polytechnic University works to move the state and the University forward, building a foundation to provide opportunities for students to learn, grow and thrive in our state is critical. Your gift to Florida Poly can help accomplish amazing things. The possibilities are endless.
Giving is easy. You can give on our designated Giving Day website on Thursday, April 6 anytime from midnight until 11:59 p.m. EST. You can make a gift to support student scholarships, or you can make a gift in support of your school, college, department, or organization of choice. When you do so, you could also earn matching funds to support it. Then, share your experience! Post about it on social media and encourage your friends to give with #FLPolyGivingDay!
The minimum gift amount is $10.
Yes, of course! Your official gift receipt for tax purposes will be emailed immediately after you make your gift. Please consult your tax advisor for advice related to your specific tax situation.
The University areas that agreed to participate are featured will display on the Giving Day website.
Only gifts made on Giving Day during the 24-hour online effort count for Florida Poly Giving Day. We celebrate all our donors year-round, no matter when gifts are made. Florida Poly Giving Day is a giving day specific to a particular time as we celebrate the University and our impact across the world.
Giving challenges are Florida Poly Giving Day contests that will earn additional funds for Florida Poly Giving Day causes..
Social Media Toolkit
Thank you for your help promoting #FLPolyGivingDay. You are integral to the advancement of the mission and objectives of Florida Poly. This guide provides information regarding expectations, benefits, and materials for your use.
Promote Florida Polytechnic University and its mission on your social media network to raise awareness and increase knowledge regarding the University.
Serve as a positive voice for the University on social media.
Share posts regarding Florida Poly events and fundraising campaigns.
Share content based on provided schedule, specific to each event using approved content and appropriate hashtags.
Social media engagement is key to the success of #FLPolyGivingday. We want to hear your story and for your network to join the conversation. Share photos, videos, and stories to your social media sites, write blog posts, make a video, or wherever your creative passion lies. Remember to use #FLPolyGivingDay, and to tag @FLPolyU or @FLPolyAlumni.
"Join me in supporting OUR University on #FLPolyGivingDay. Visit givingday.floridapoly.edu to make your gift today."
"On #FLPlolyGivingDay, I support Florida Polytechnic University because _________________. Make your gift at givingday.floridapoly.edu "
"The education I received from Florida Poly is why I _______________. Support #FLPolyGivingDay at givingday.floridapoly.edu."
"Supporting Florida Polytechnic University, my alma mater, is important to me because _________________. Share your story and your resources using #FLPolyGivingDay." #FLPolyAlumni
Join me in making a gift in support of #FLpolyGivingDay ________________."
When possible, use all of these, but always use #FLPolyGivingDay
#FLPolyGivingDay
#FLPolyAlumni
#FLPoly
Here is what we need from you on Giving Day

Post to your social media about Giving Day.

Tell everyone you know about April 6 and Florida Poly Giving Day.

Use #flpolygivingday for everything posted on social media on Giving Day.