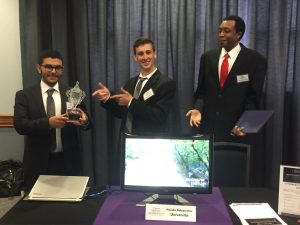 Florida Poly inventions and business plans took home top prizes at recent state competitions.
Ten universities from across the state were represented at the Governor's Cup in Tallahassee from March 30-31. The Governor's Cup is an entrepreneurial competition hosted by the Roundtable of Entrepreneurship Educators of Florida (REEF). The top three teams received start-up funding for their concepts.
The Florida Poly team won third place for Logentix, an add-on for vehicles that provides autonomous vehicle features like anti-collision warning. The Logentix team — Junior Randy Lopez, Junior Joshua Rentrope and Sophomore Josiah Hunsinger — won $1,500.
"It's inspiring and a testament to the level of impact our ideas could have on the Florida economy," says Justin Heacock, Entrepreneurship Center Coordinator. "Even though our entrepreneurship program is under a year old, this third place finish shows our students are ready to compete with anyone in the state."
A week later, three teams of Florida Poly students traveled to the University of South Florida for the Frank and Ellen Daveler Pitch Competition. The event focuses on giving students a unique opportunity to increase their knowledge of business operations and gain insight into the entrepreneurial process in venture creation, growth, and harvesture.
Florida Poly brought three finalists out of 20 total students (the second most in the state), which earned each student an automatic $2,500 in prize money and internship and mentorship opportunities. Those students were Enrique Bolivar, Wesley Varughese and Michael Jernigan.
After making their business idea pitches, Jernigan's innovative prototype for a product that harnesses thermal energy for illumination earned him an extra $2,500.
Wesley credits Justin for his insight into entrepreneurship and for inspiring him to put his idea up to the test.
"The best part of participating in the Davelar Competition was the ability to interact and network with other students from across the state," Wesley says. "It was an amazing experience and to be in an environment with so much potential was inspiring. This competition allowed me to step out of my comfort zone into the world of entrepreneurship."