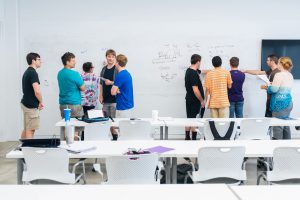 Florida Polytechnic University students earned almost $15,000 in prize money this semester with their innovative ideas and inventions.
The most recent prize was through SlingShot Polk, an event presented by the Lakeland Chamber of Commerce. The competition is divided into three age categories: middle school; high school; and college and entrepreneurs under 30. Florida Poly students were the sole representatives of the latter category with six finalists.
The first place finisher was Michael Jernigan and his invention "HeatRise," which harnesses thermal energy for powering a lightbulb; second place was awarded to students Zachery Notz, James Mavo, Cody Kaschai and Trevor Beckett for a virtual reality simulator for skeet shooters; and third place was awarded to Ethan Puerto for a temperature control cooking device.
Collectively, they earned $3,000 in prize money.
That winning streak was continued from two other competitions earlier this semester. A team of students took home third place in March at the Governor's Cup in Naples, earning them $1,500. Their invention, which adds autonomous vehicle features to ordinary cars, was chosen from 10 other competing universities.
A week later, three Florida Poly students traveled to the University of South Florida to pitch their business ideas at the Frank and Ellen Daveler Pitch Competition. The three Florida Poly representatives automatically earned $2,500 for their ideas and Jernigan's idea was picked for an additional $2,500 prize.
This prize money comes in the first year for Florida Polytechnic University's entrepreneurial ecosystem and is a testament to the far-reaching potential of our students. Florida Poly's long term goal is to be known for having the best high tech ideas in entrepreneurial competitions among the various state universities.