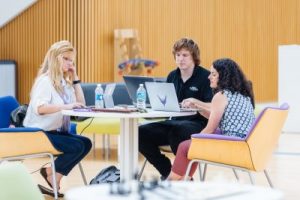 The wait time in an emergency room can sometimes feel like an eternity, especially if you're in pain. So what's the solution?
Two Florida Polytechnic University students think they have the answer. It's called MELP, or Medical Expertise Location and Performance, a play on the popular website and app, Yelp. Instead of users ranking businesses and restaurants, though, doctors and nearby hospitals will be graded. In addition to quality of care, the app will also provide wait times and which medical providers are covered by your insurance plan.
Max Ferrell, who developed the concept alongside his classmate, Alex Fronteddu, says it was inspired by personal experience. When his brother flipped a go-kart and broke a bone, they filled out forms and waited two hours before they could be seen.
"We're just looking to improve the process," Max says.
The duo's idea was good enough to earn them a spot as one of six finalists at the recent Society for Health Systems Innovation Competition. The challenge was to create disruptive technology that reduced patient wait times.
In addition to showing nearby doctors, the app would include digital discharge papers and games for patients to play while waiting.
These types of medical applications fall under the field of health informatics, which sometimes gets overlooked in the world of science, technology, engineering and math (STEM). Neither Max nor Alex were aware of the field when they came to Florida Poly. But both agree the field has a lot of potential to change the world.
"It's really been an interesting process," Alex says.